EDIT MAIN
Community Resources for Families
We are so grateful to our supportive community. If you would like to offer financial assistance or support, please email joy.shirley@fayar.net or visit fayedfoundation.org.
FPS Outback Pantry
2350 Old Farmington Road
Fayetteville, AR 72703
The Fayetteville Public Schools Outback is a food pantry for students enrolled and attending Fayetteville Schools. We can also provide minimal clothing needs, but our partnership with Potter's House supplies the majority of needed clothing items for our families.
We are located behind the ALLPS School Campus. Please contact us if you have items to donate.
Fayetteville Public Schools Outback Program - Facebook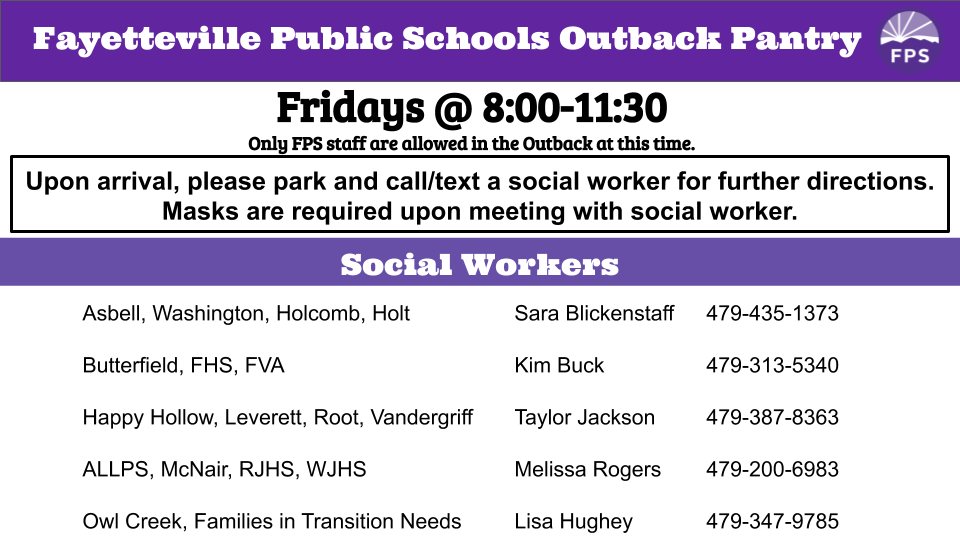 ---
Salvation Army
Website: http://www.nwasalvationarmy.org
219 W. 15th St.
Fayetteville, AR 72701
(479)521-2151
Email: joshua.robinett@uss.salvationarmy.org
---
Lifesource
Website: https://www.lifesourceinternational.org/food-assistance
602 South School Avenue Suite 2
Fayetteville, AR 72701
(479) 521-4000
---
Compassions NWA
Website: http://www.compassionnwa.com/feedthe479/

---
Washington County Food Programs
Please note, these resources can change. Phone numbers are provided so please check before going:
Samaritan Community Center Springdale
Website: https://www.samcc.org/covid-19-crisis-response/
1300 N Thompson Ave Springdale, AR 72764
(479) 872-1115
DRIVE THROUGH SERVICE ONLY
Includes meals, groceries (once a month), and kids snack pack
Tuesday: 10:30am - 12:30pm
Thursday: 10:30am - 12:30pm
St. James Baptist Church
764 W North St Fayetteville AR 72701
(479) 521-0961
DRIVE THROUGH SERVICE ONLY
Includes food bag
Tuesday: 11:00am - 1:00pm
In order to receive food bags, you must fill out this form:
https://stjbc.wufoo.com/forms/s1h1a4zr06lqvdq/
and present a Photo ID.
Trinity United Methodist Church
1021 W Sycamore St Fayetteville AR 72703
(479) 575-9500
Food Pantry - Pre-bagged Pick-Up
Wednesday: 5:00 p.m. - 7:00 p.m.
Sunday Supper: 3:30 p.m. - Free Meal - Take out
St. Paul's Episcopal Church
224 N East Ave Fayetteville AR 72701
(479) 442-7373
Free Meal (pick up only)
Monday: 10:45am - 12:45pm
Wednesday: 10:45am - 12:45pm
Genesis Church
205 MLK Jr. Blvd., Fayetteville, AR 72701
(479) 442-1827
To go lunches
Tuesday, Thursday, Friday, and Saturday: 11:30-12:30
---