K-2 MAP TESTING IS THIS MONTH Kindergarten & 2nd grade - week of Jan. 9-13 1st grade - week of Jan. 17-20 Want to help your kiddo? A good night's rest, a hearty breakfast, and encouraging words go a long way!

CREATIVE CATS RETURN JANUARY 4. LIFESOURCE & YRCC returns JANUARY 9. WISE KIDS returns JANUARY 25.

We've had a great fall semester in Fayetteville Public Schools! Here is a collection of sights and sounds from the past five months. We hope you have a wonderful holiday season and an happy and healthy New Year! #onefps
https://youtu.be/qX9aif-0SBk


WINTER CLASS PARTIES SCHEDULE - FRIDAY, DEC. 16 Schedule Here K-11:55-12:55 1st-1:00-2:00 2nd-1:45-2:45 3rd-2:00-3:00 4th-1:30-2:30

Fayetteville High School Computer Science students held a FPS Night of Coding introducing community members of all ages to computer coding and technology basics. Participants experienced hands-on games and engaging tutorials at a variety of interactive stations with FHS students guiding the way!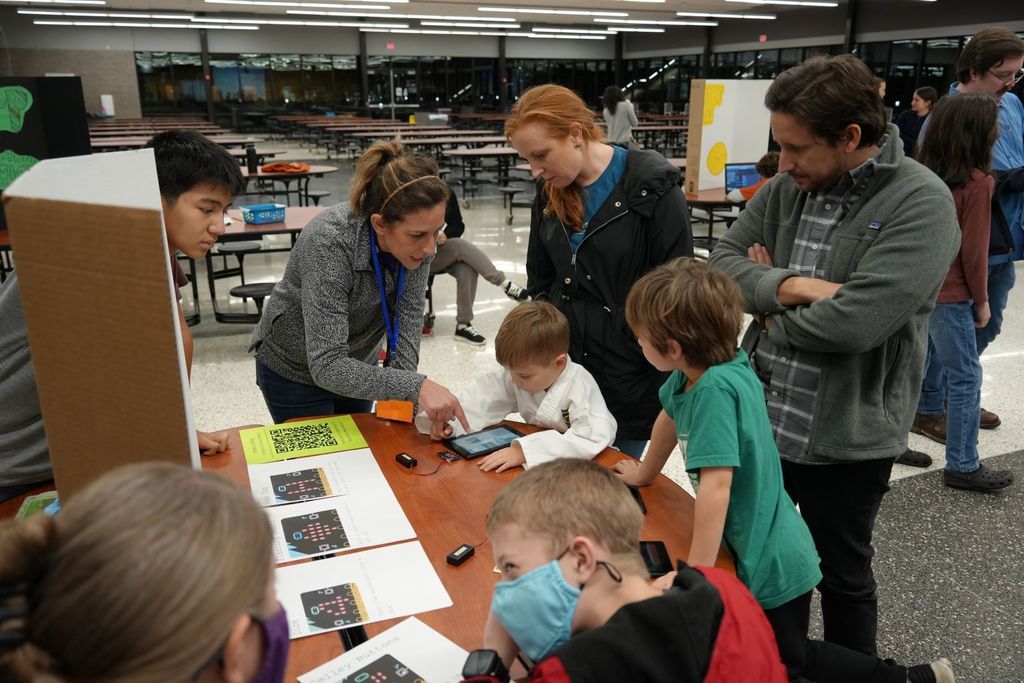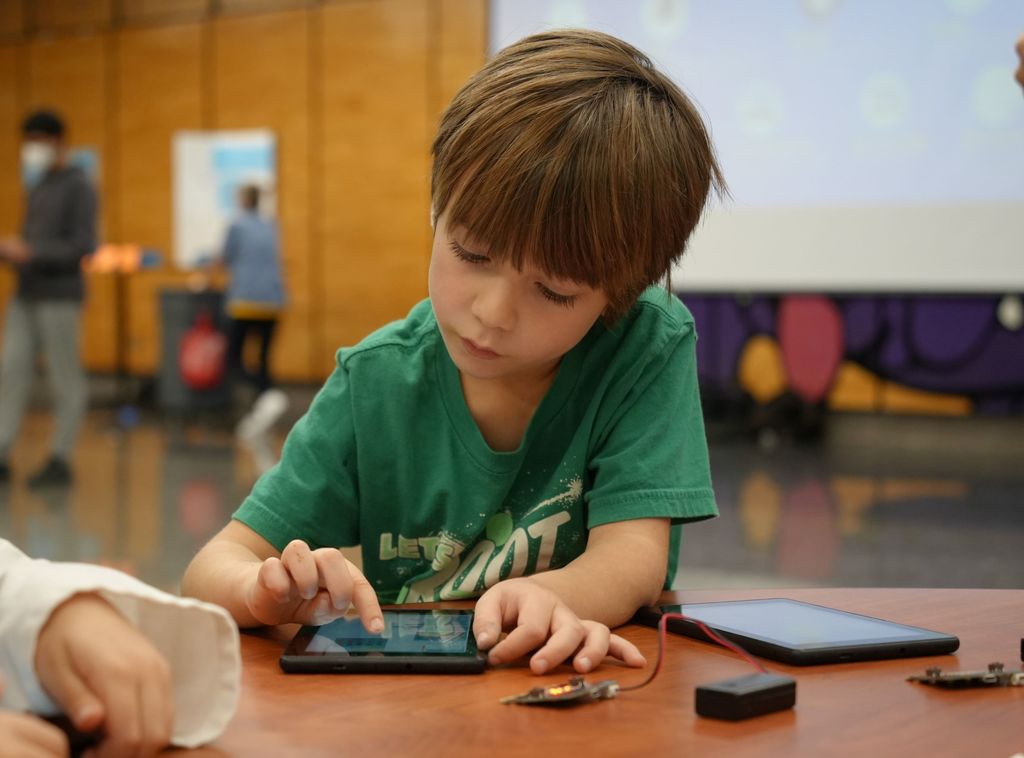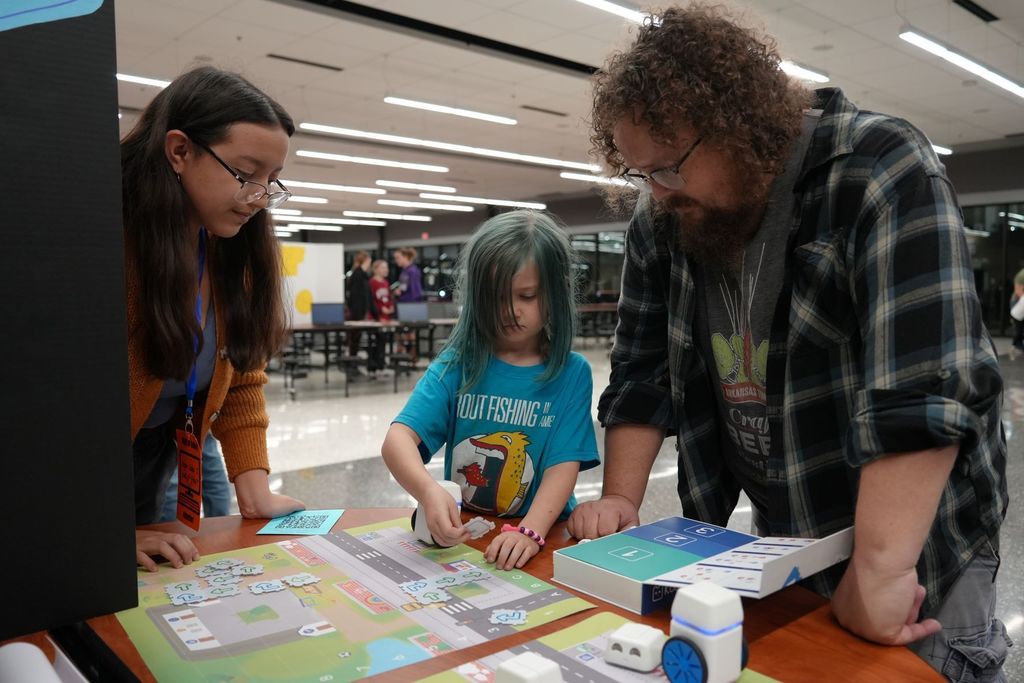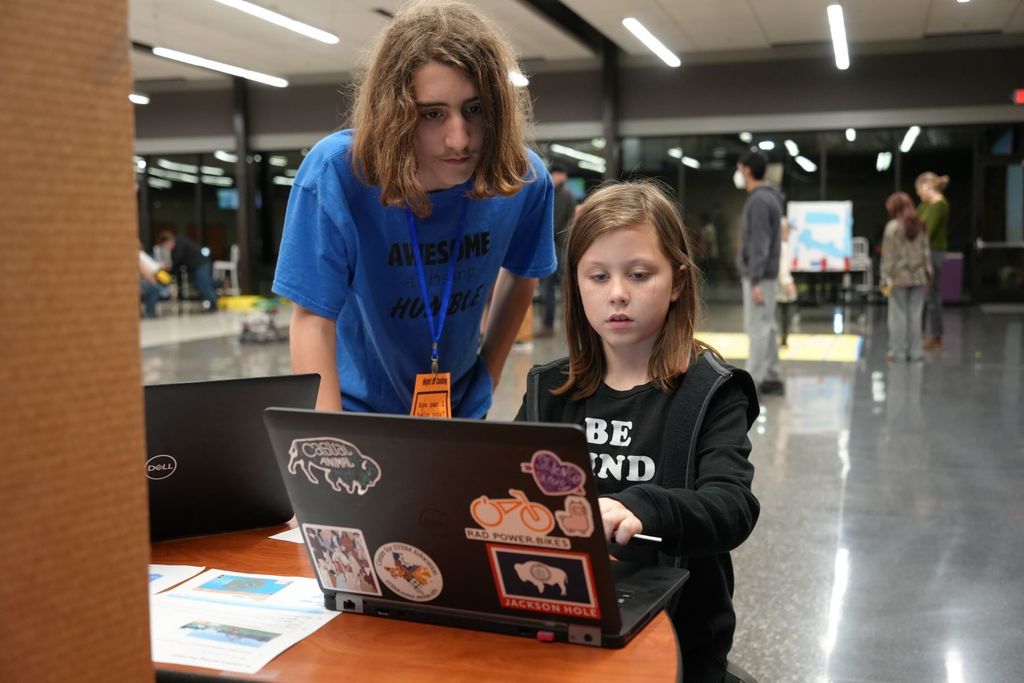 Washington - Parent Night Out Fundraiser Dec 2 5:00 PM — 9:00 PM

Wanna be a Washington Wildcat Parent?! just sign up using the link below and help keep Washington and our beloved kiddos safe M.SIGNUPGENIUS.COM SignUpGenius - Mobile

REMINDER: School-wide spelling bee Friday, the 9th at 8:30 am.

FYI - Mr. Bowers' class won Mac and Cheese drive and Stengel won the Socktober drive. They had their extra recess on Friday.

We need YOU as an FPS School Bus Driver!🚍 Ride along with three of our FPS School Bus Drivers for a glimpse into their day and learn more about the benefits and opportunities that exist when you join our team! APPLY TODAY!💜
https://www.youtube.com/watchv=jKuIDVK97Hs&t=2s


MARK YOUR CALENDARS! School-wide spelling bee Friday, the 9th at 8:30 am.

MARK YOUR CALENDARS! November PTO meeting is Wednesday, November 16th from 6:00 - 7:00 pm. Looking forward to seeing you there!

MARK YOUR CALENDARS!! November 14 - 17 our Scholastic Book Fair will be this week on Monday-Thursday! Students shop during regular Encore time and during Free Flow hours. -No book check-out during Encore because of Book Fair. -Book Fair closes Thursday afternoon at 3:00 pm.

CLASSROOM FALL PARTY TIMES - FRIDAY, OCTOBER 28th Class party times! K-11:55-12:55 1st-1:00-2:00 2nd-1:45-2:45 3rd-2:00-3:00 4th-1:30-2:30

COSTUMES ON HALLOWEEN - Monday, October 31st If your kiddo would like to wear a costume to school on Halloween, please keep the following guidelines in mind: The costume should be associated with a character in a book. Need help with a book? Just ask! NO masks NO swords, ninja stars, or other costume weapons NO candy

PICTURE RETAKES will be Thursday, October 27th

WEDNESDAY, OCTOBER 26th is the 4th Grade Musical Performance, "Down Home in Arkansas", from 6:00 PM — 7:00 PM.

SAVE THE DATE - for our FALL FESTIVAL that will be on Friday, October 28th from 6 - 8 pm in the Gym. AND DONATE! We are kindly asking for donations of the following by grade: Kindergarten/1st: candy bags 2nd/3rd: individualized wrapped small bags of chips 4th: cookies/brownies All donations are due by Wednesday, October 26th. Watch for more information including ticket sales to come in your child(ren)'s Monday folder, Facebook and on the school's website.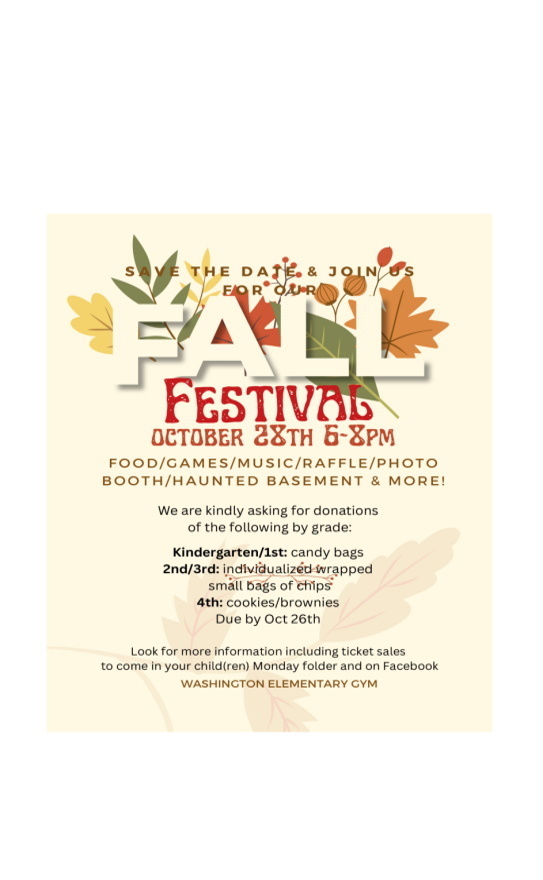 Washington Elementary recognizes October as National School Principals Month. Each October, National Principals Month recognizes principals' essential role in making a school great. We are thankful for our outstanding Fayetteville Public School District's principals who make a difference in the lives of students and staff members every day. Principals are among the hardest working, yet often least recognized, individuals in education. They set the academic foundation to create the best educational framework for students. It's important that we celebrate them! Claire Garrett replaces Ashley McLarty at Washington Elementary. Ms. McLarty retired after 27 years with the district. Mrs. Garrett has served as assistant principal at Root Elementary School since 2017. She previously served as a special services designee and as a special education paraprofessional. Garrett received her bachelor's degree in education from the University of Arkansas and her master's degree in educational leadership from Arkansas State University. Let Mrs. Garrett know how much you appreciate her!